Everybody heard about Rory Delap and his famous long throws which Stoke used successfully in a lot of occasions.
These days almost every football team has one good long throw-in taker.
In fact, you could see the Republic of Ireland women's football team to use it.
Check this video with unbelievable long throws by Megan Campbell.
But, due to good scouting and the fact that many teams use it, the defences are a lot better in defending it.
Still, it is a good attacking weapon, and I personally love to have at least one player with a good lown throw-in attribute.
Long throws strategies
You can find a lot of various throw-ins set up tactics.
For the example, in the video below is how Sporting de Gijon set up long throw-ins:
Facts
Per game, there are between 40 and 60 throw-ins. And 50 percent of them are on the opponent's half.
Physicists Nicholas Linthorne and David Everett have calculated that the optimal angle of throwing the ball is 30 degrees.
Proper throw-in implies that the player uses both hands and that the ball has to move from behind the head.
It is very common to see a fullback or a wing back to take the throw-in.
My set-up
As I prefer to set up every single tactic detail myself, I also take some time to set up throw-ins to match my vision and my squad ability.
So, when I set up dangerous long throw-in, the first and the most important thing is that the taker has the necessary ability to execute long throws.
After that, I want to have one or two players with a great jumping and heading ability to jump on the ball.
And this is how my long throw-ins set up looks:
---
Version 1 – standard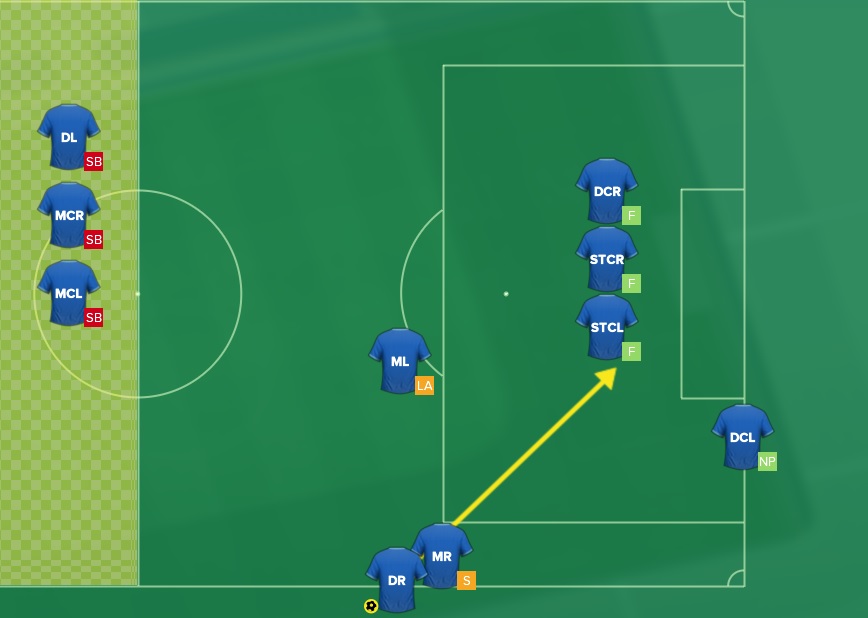 This is the kind of standard set up. You can see three men staying back.
One player comes close and brings one opponent player out of the box. Also, one player is at the edge of the box, and draw the attention of one opponent player.
I have one DC at near post and one in the box along with two more players.
The two players are players with good jumping, heading, and strength (DCs) and other two must have good finishing and anticipation attributes.
---
Version 2 – best in FM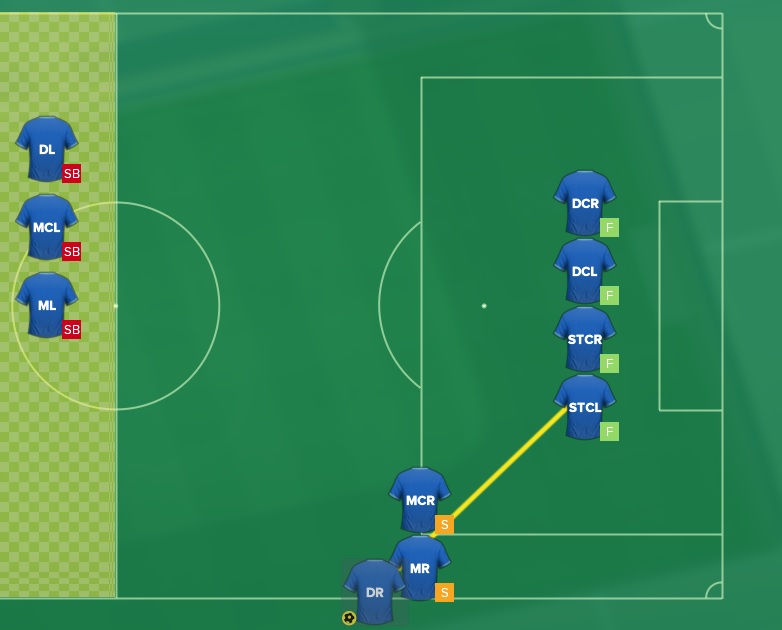 This version showed as the best for me in Football Manager.
When comparing with previously mentioned version 1 this version produced around 30% more goals and almost 50% more clear-cut chances.
The first difference is that I have one more player to come short, and the second difference is that player from near post is moved in the box.
The players roles aren't too important and the set up was from the basic 4-4-2 formation.
Feel free and adjust to suit your formation/team needs!
---
Long throws training in FM 2019
In Football Manager 2019 there is a completely new training system, and I really looking forward to seeing how can it be used in the terms of developing long throw takers.
Why?
Well, if you didn't know, Thomas Grønnemark joined Liverpool this summer as a throw-in coach!
BTW, he holds the Guinness World Record for the longest throw-in!
And this is the coaching staff addition what I would like to see and have in Football Manager new training system!
---
The best throw-in takers in FM
Now you have only one more problem left… The right player to take long throws!
If you already have the player with long throws attribute over 15 you can train him to possess long flat throw.

In fact, younger players with 12,13 long throws attribute and a good development potential can be trained to increase this attribute and use long flat throw.

Just watch this incredible throw in by Tim Vodeb:
And to give you a head start, below you will find a list of best long throw-in takers in Football Manager.
Choose and use long throws as the attacking surprise!
What is your opinion about long throw-ins?
Give us feedback: Was his article helpful?