The 4-4-2 formation is one of the most classic and widely used formations in football (soccer). This was the main reason and motivation behind creating the best FM 2024 tactic, which is the 4-4-2.
It is revered for its balance and simplicity, providing a solid defensive structure while offering various options in attack.
In modern football, the 4-4-2 formation has evolved, and many teams now use variations of it to counteract some of its weaknesses.
For instance, one of the central midfielders may play in a more advanced role, or one of the strikers may drop deeper to link play.
The key to success with a 4-4-2 is having the right personnel and adapting the roles within the formation to suit the strengths and weaknesses of the team.
---
Key Facts:
✅ Classic Balance: The 4-4-2 formation offers a harmonious blend of defensive stability and attacking options, making it a timeless choice in football tactics.
✅ Evolutionary Adaptations: Modern adaptations of the 4-4-2 allow for flexibility, such as advanced midfield roles or deeper-lying strikers, to enhance its effectiveness.
✅ Personnel Pivotal: Success with the 4-4-2 hinges on having the right players who can adapt to specific roles within the formation to exploit the team's strengths.
✅ Tactical Versatility: The formation can shift dynamically during a match to variations like 4-4-1-1 or 4-2-3-1, allowing for strategic flexibility.
✅ FM 2024 Custom Tactic: A specially crafted 4-4-2 tactic for FM 2024 emphasizes a balanced approach with quick transitions and varied attacking play, tailored to the game's mechanics.
---
Essential Insights into the 4-4-2 Formation: Understanding Its Mechanics and Application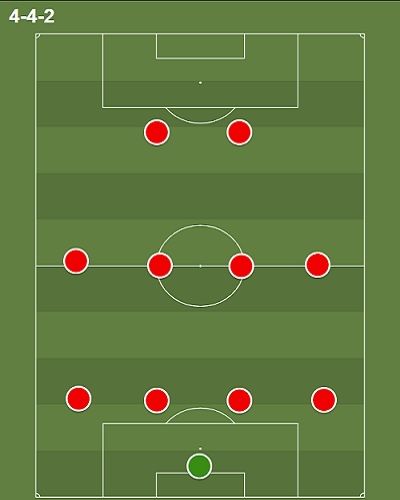 Formation
The 4-4-2 is set up with four defenders (two center-backs and two full-backs), four midfielders (two central and two wide), and two strikers.
The formation can be adapted into a flat, diamond, or box midfield, depending on the strategy. The 4-4-2 is a versatile formation that can be effective at all levels of football.
It requires players who are disciplined, tactically aware, and capable of performing their roles with and without the ball. The success of the 4-4-2 relies on a balanced team effort, where every player understands their role in the collective strategy.
Positions
Goalkeeper (GK): The last line of defense, responsible for organizing the backline and starting attacks from the back.
Center-Backs (CB): Two central defenders who are strong in the air and in tackling. They must communicate well and cover for each other.
Full-Backs (RB/LB): Positioned on the flanks of the defense. They support the attack and must be quick to recover defensively.
Central Midfielders (CM): They are the engine of the team, responsible for linking defense and attack. One may be more defensive (a holding midfielder), and the other more creative (a box-to-box player).
Wide Midfielders (RM/LM): They provide width, deliver crosses, and support both defense and attack. They need to have good stamina and dribbling skills.
Strikers (ST): One striker may play as a target man, holding up the ball, while the other makes runs behind the defense. They need to be good finishers and able to press defenders.
Attacking Phase
Width: The wide midfielders and full-backs provide width, stretching the opposition defense and creating space.
Depth: Strikers offer vertical depth, either by dropping deep to link play or by pushing the defensive line back.
Movement: Central midfielders push forward to support the attack, and one striker may drop back to create an overload in midfield.
Crossing: A key element, with wide players delivering balls into the box for the strikers and onrushing midfielders.
Defensive Phase
Shape: The team maintains a compact shape, with two banks of four and the strikers dropping back to defend.
Pressing: Depending on the team's strategy, pressing can be high, with strikers initiating, or more conservative, waiting for the opposition to enter the midfield area.
Transition: Quick transition to defense is crucial, with wide midfielders and full-backs retreating rapidly.
Movement With and Without the Ball
With Ball: The team looks to spread the play wide and create passing triangles on the flanks. Central midfielders look to distribute the ball quickly to the flanks or through to the strikers.
Without Ball: Players move to close down space and passing lanes, with the midfield four shifting laterally to cover the width of the pitch.
Player Types Needed
Goalkeeper: Good shot-stopper and proficient with feet for building from the back.
Center-Backs: Physically strong, good in the air, and with a sense of positioning.
Full-Backs: Quick, with stamina to overlap and recover, and good crossing ability.
Central Midfielders: One defensive-minded with tackling skills, and one creative with good passing range.
Wide Midfielders: Fast, good dribblers, and capable of delivering accurate crosses.
Strikers: A combination of a physically imposing target man and a quick, agile partner.
Set Pieces
Corners: Typically, the taller players, like center-backs, move forward to attack the ball, while a couple of players stay back to defend against counter-attacks.
Free Kicks: Depending on the position, they can be direct shots on goal or crossed into the box. A specific player is usually designated for taking free kicks based on their skill set.
Penalties: Usually taken by the most composed and technically proficient striker.
Training and Drills
Defensive Drills: Focus on maintaining shape, clearing crosses, and zonal marking.
Attacking Drills: Emphasize quick passing, crossing from wide areas, and finishing from various angles.
Stamina and Conditioning: Essential for maintaining the formation's structure throughout the match.
Tactical Flexibility
The 4-4-2 can be adapted during the game to a 4-4-1-1, with one striker dropping deeper, or to a 4-2-3-1, with wide midfielders pushing forward and one central midfielder advancing into an attacking role.
Pros:
Balance: The 4-4-2 provides a good balance between defense and attack, with four defenders, four midfielders, and two forwards.
Width: It naturally offers width in midfield, which can be used to stretch the opposition and create space in the middle of the park.
Defensive Solidity: With two banks of four players, the 4-4-2 is inherently solid defensively, making it difficult for opponents to break down.
Simplicity: It is a straightforward formation to understand and implement, making it a good choice for teams that have not played together for long.
Counter-Attacking: The 4-4-2 is effective for counter-attacking play, as it allows teams to defend deep and then break quickly through the midfield and forwards.
Crossing: The presence of two strikers in the box provides ample opportunity for scoring from crosses, making it ideal for teams with good wide players.
Flexibility: It can be easily shifted into other formations during a match without making substitutions (e.g., 4-4-1-1 or 4-2-3-1).
Cons:
Midfield Overrun: The 4-4-2 can struggle against formations with an extra midfielder (like 4-3-3 or 4-5-1), as the central area can become overrun.
Lack of Creativity: With only two central midfielders, there may be a lack of creativity if both are defensively minded, or if the opposition midfielders outnumber them.
Space Between Lines: There can be a gap between the midfield and the strikers if the forwards do not drop back or if the midfielders do not push up, leading to a disconnect in play.
Predictability: It can become predictable, as opponents are familiar with the formation and can plan accordingly.
Requires Disciplined Wingers: The wide midfielders must be disciplined in both attacking and defensive duties, which can be physically demanding and may reduce their effectiveness in attack.
Adaptability: While the formation is flexible, it can be less adaptable in-game compared to more fluid systems, and may require substitutions to change the team's approach significantly.
Striker Isolation: If the midfield is pinned back, strikers can become isolated and service to them can be limited, reducing attacking effectiveness.
Which Teams and Managers had Most Success with 4-4-2 Tactic?
---
Sir Alex Ferguson (Manchester United)
Sir Alex Ferguson's Manchester United famously used a 4-4-2 during many of their successful years, particularly in the 1990s and early 2000s (1).
With dynamic wingers like Ryan Giggs and David Beckham, and striking partnerships such as Andy Cole and Dwight Yorke, United dominated English football and won the UEFA Champions League in 1999.
Arsène Wenger (Arsenal)
Arsène Wenger utilized a 4-4-2 during Arsenal's "Invincibles" season in 2003-2004, where they went unbeaten in the Premier League (2).
The combination of Thierry Henry and Dennis Bergkamp up front, with solid midfield support, proved to be incredibly effective.
Carlo Ancelotti (AC Milan)
Carlo Ancelotti's AC Milan won the UEFA Champions League in 2003 and 2007 using a variation of the 4-4-2, which often morphed into a 4-3-2-1 "Christmas Tree" formation (3).
The team was known for its solid defense and the striking duo of Filippo Inzaghi and Andriy Shevchenko.
Ottmar Hitzfeld (Borussia Dortmund and Bayern Munich)
Ottmar Hitzfeld won the Champions League with Borussia Dortmund in 1997 and later with Bayern Munich in 2001 using a variations of 4-4-2 formation (4).
His teams were well-organized, with a strong emphasis on teamwork and collective responsibility.
Diego Simeone (Atlético Madrid)
More recently, Diego Simeone has found success with Atlético Madrid using a very disciplined and defensively strong 4-4-2 system (5).
This approach led them to win La Liga titles and reach the Champions League final twice in the 2010s.
Claudio Ranieri's Leicester City
Leicester City is one of the most remarkable success stories in modern football, with their Premier League title win in the 2015-2016 season.
Ranieri employed a 4-4-2 formation that was pivotal to their success (6).
Here's how Ranieri's 4-4-2 worked for Leicester City:
Solid Defensive Base: The central defensive partnership of Wes Morgan and Robert Huth was protected by the central midfield duo of N'Golo Kanté and Danny Drinkwater. Kanté's energy and ball-winning ability were particularly crucial, as he provided cover for the entire midfield.
Counter-Attacking Style: Leicester's 4-4-2 was set up to absorb pressure and hit teams on the break. The pace of Jamie Vardy and the creativity of Riyad Mahrez were instrumental in this approach. Vardy's runs behind the defense and Mahrez's ability to create chances out of nothing made Leicester's counter-attacks lethal.
Disciplined Wingers: The wide midfielders, Marc Albrighton and Riyad Mahrez, provided width but were also disciplined in their defensive duties. Albrighton, in particular, was known for his work rate and crossing ability.
Striking Partnership: Vardy was partnered with Shinji Okazaki, who played a crucial role with his work rate, pressing, and ability to create space for Vardy with his intelligent movement.
Set Pieces: Leicester was also very effective from set pieces, with Huth and Morgan posing significant threats from corners and free-kicks.
Ranieri's Leicester was a perfect storm; a team that knew their strengths and played to them exceptionally well. The 4-4-2 formation they used was not revolutionary in its structure, but the discipline, teamwork, and execution of their game plan were exemplary. Their success is often cited as a testament to the effectiveness of the 4-4-2 system when a team works cohesively and plays to the strategy laid out by the manager.
---
Now, let's get to my 4-4-2 tactic specially built for FM 2024. This tactic incorporates some of the tactical approaches and philosophies of the previously mentioned tactics.
The Best FM 2024 Tactic: Mechanisms of the 4-4-2 System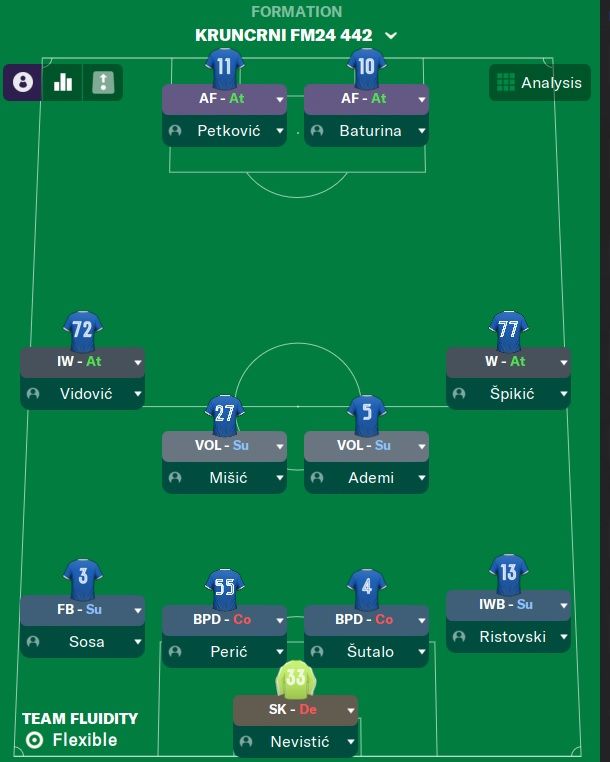 The tactical characteristics of this 4-4-2 setup for Football Manager 2024 are designed to create a balanced team that is defensively solid but also capable of quick transitions and varied attacking play.
Defensive Phase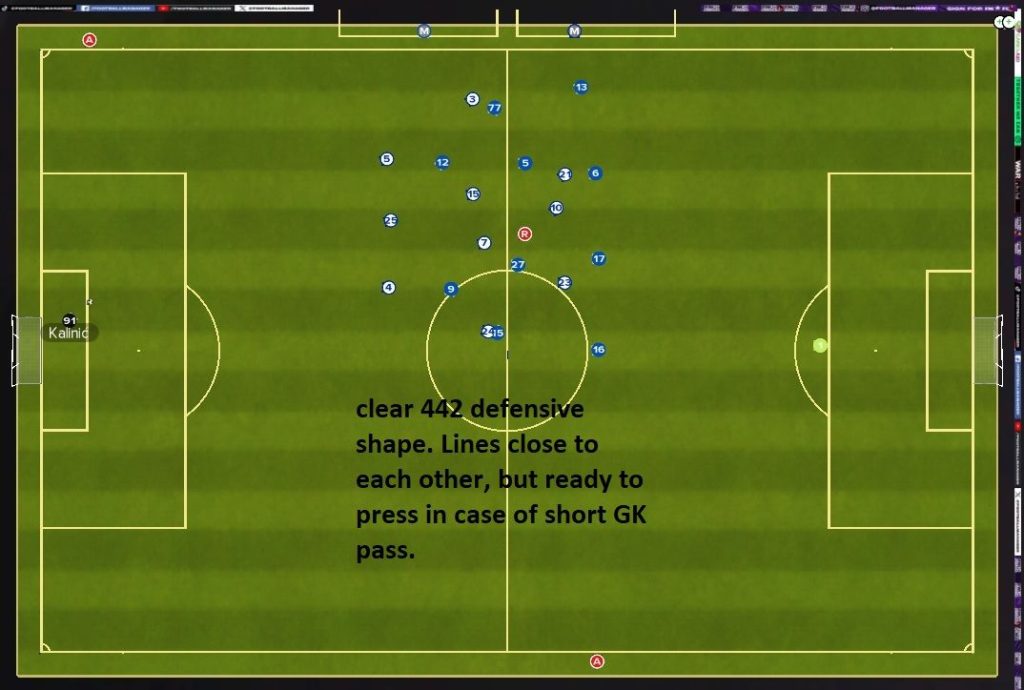 The ball is with the opposition keeper. The team's shape contracts slightly, with the midfield four forming a tight line in front of the back four. The Sweeper Keeper is alert, ready to rush out for any through balls.
The Ball Playing Defenders are positioned slightly deeper, ready to intercept long balls or start playing from the back when they win possession. The Segundo Volante is a buzzing presence, ready to drop back to help the defenders or spring forward when the ball is won.
Transition to Attack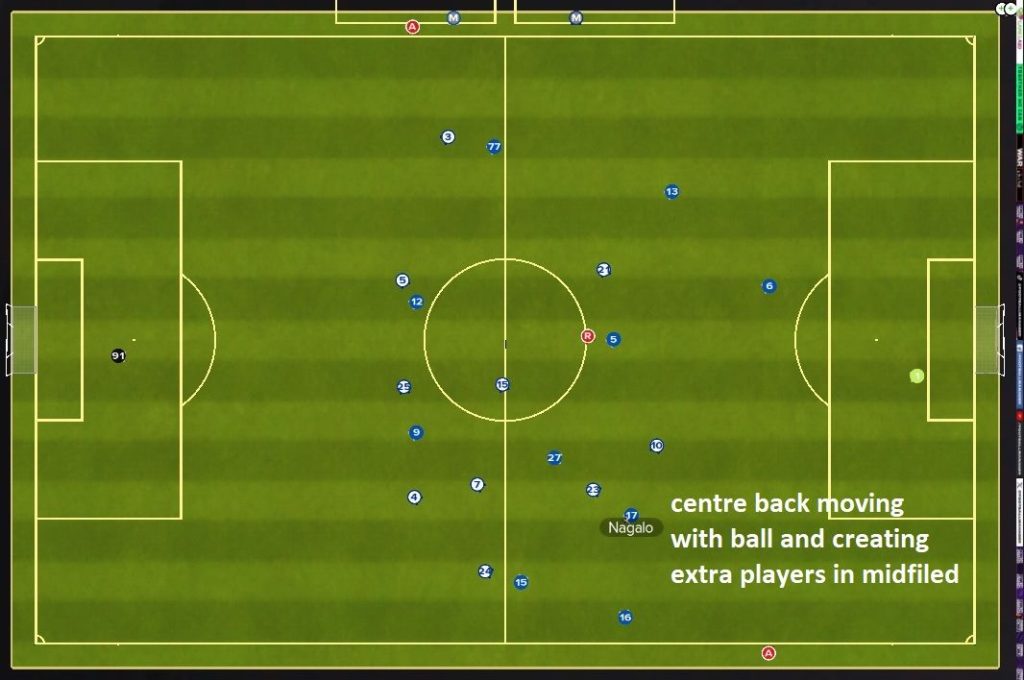 As soon as your team regains possession, the shape begins to shift. The Sweeper Keeper quickly rolls the ball out to one of the Ball Playing Defenders or the Segundo Volante, who have already positioned themselves to receive it.
The Full Back on the left starts bombing down the flank, while the Inverted Wing Back on the right tucks inside, offering a passing option in the midfield.
Attacking Phase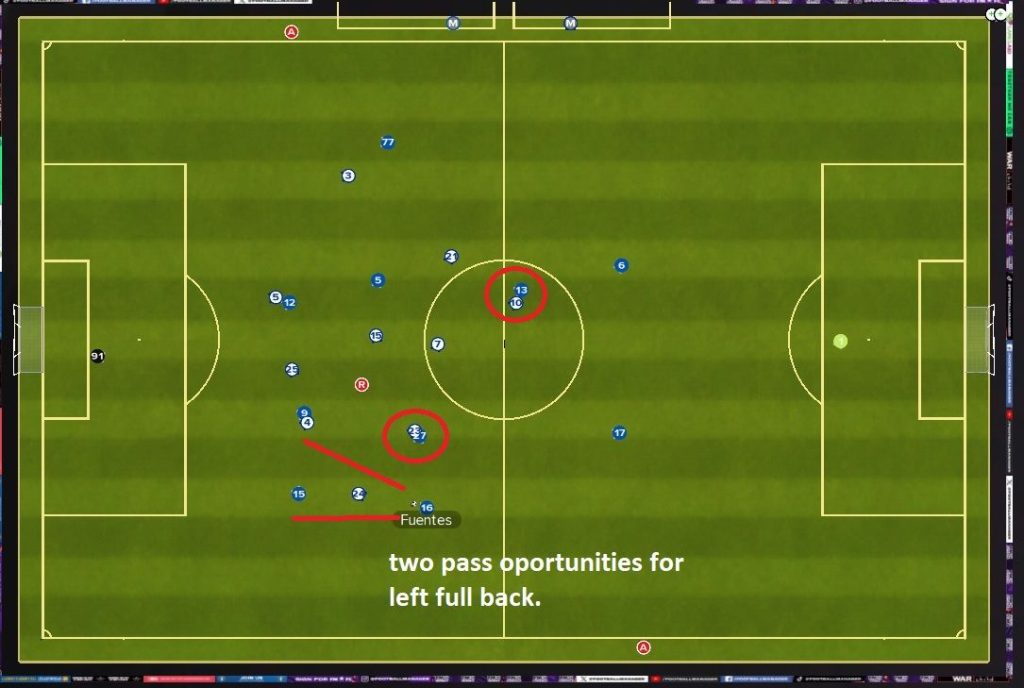 In possession, your team's play is fluid and dynamic. The Full Back on the left is now high up the pitch, ready to whip in a cross or combine with the Inverted Winger, who has drifted inside to either take a shot or thread a killer pass.
On the opposite side, the Winger is hugging the touchline, stretching the opposition's defense and waiting to either dash down the line or receive the ball for a cross.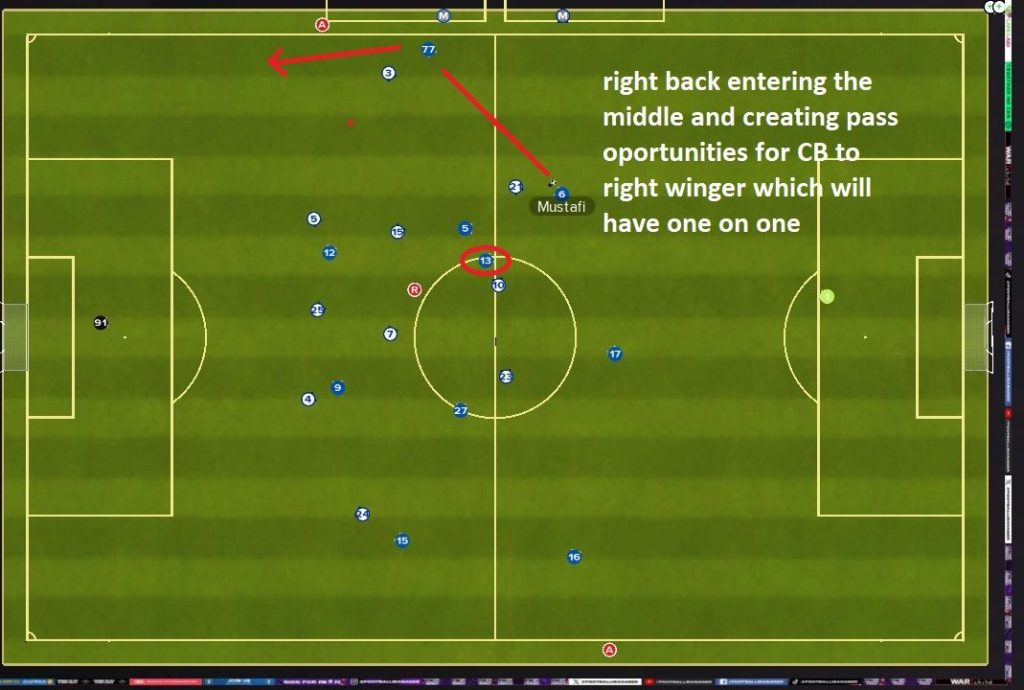 The Advanced Forwards are on the move, making darting runs, looking for the ball in behind or ready to pounce on any service from the wings.
In Possession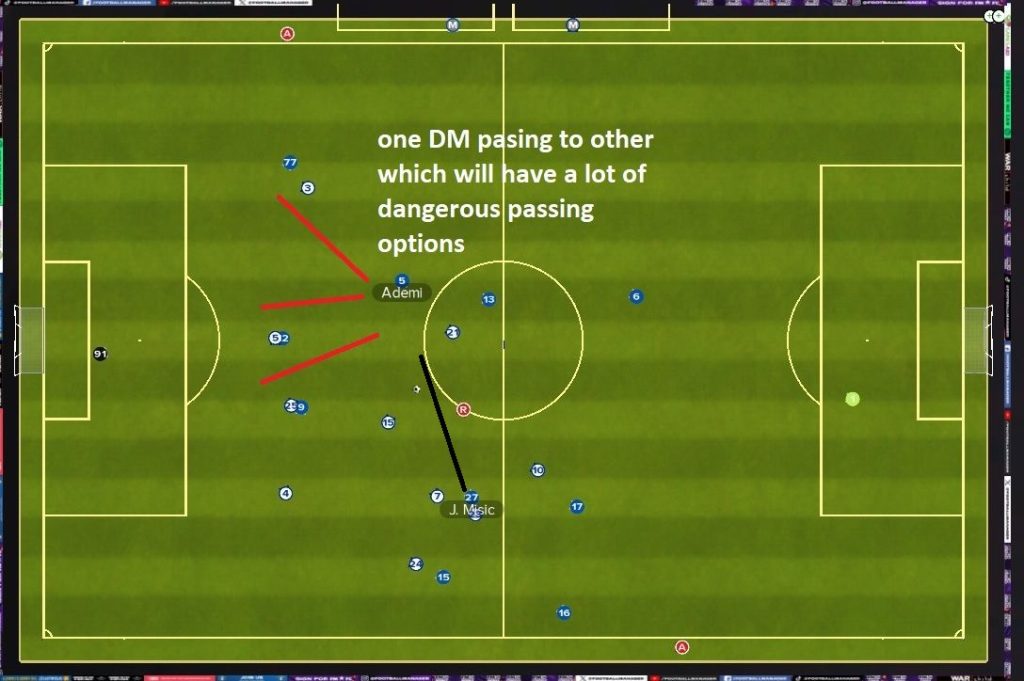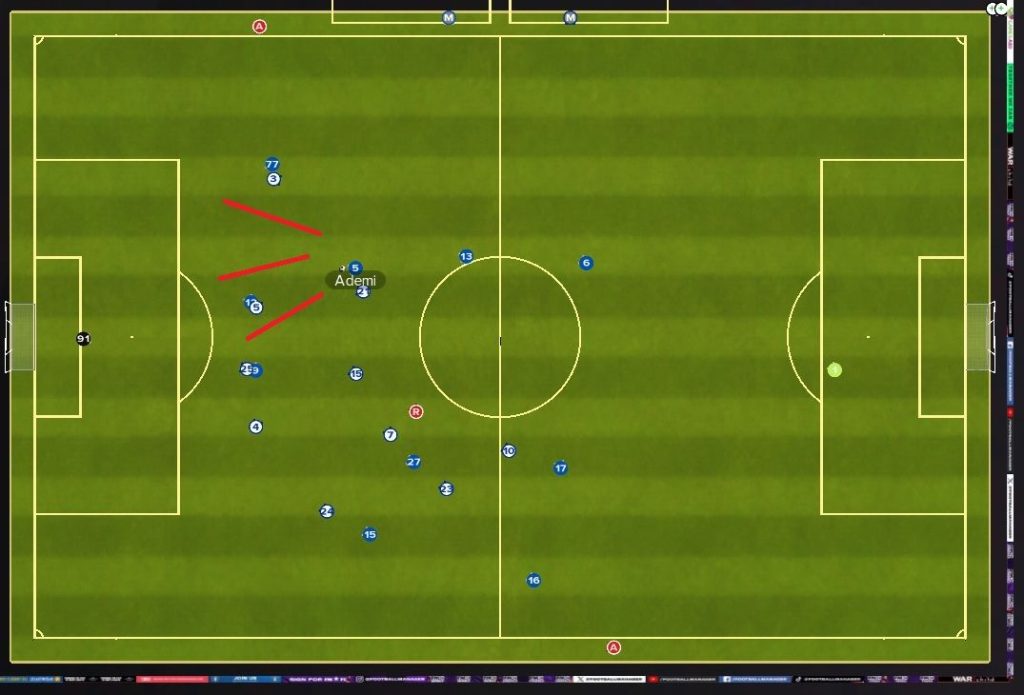 The team's passing is crisp and purposeful. With a 'Balanced' mentality, there's a mix of patience and probing.
Shorter passes are preferred, but players are always looking for opportunities to pass into space, especially for the quick forwards or the marauding Segundo Volante.
The tempo is slightly higher, ensuring the ball moves quickly but not hastily, allowing for the orchestrated movement of players to unfold.
In Transition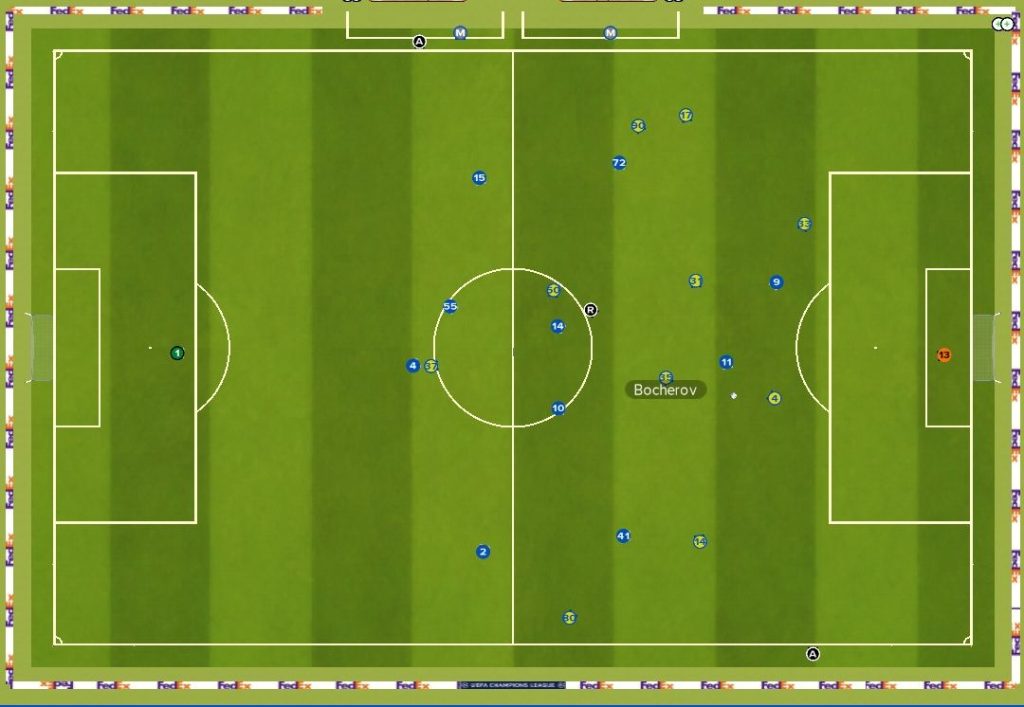 When the ball is lost, the immediate reaction is to press. The forwards lead the charge, the midfielders close down space, and the defenders push up to reduce the playing area for the opposition.
If the ball is won high up the pitch, the team looks to counter quickly. If not, they fall back into their solid defensive shape.
Out of Possession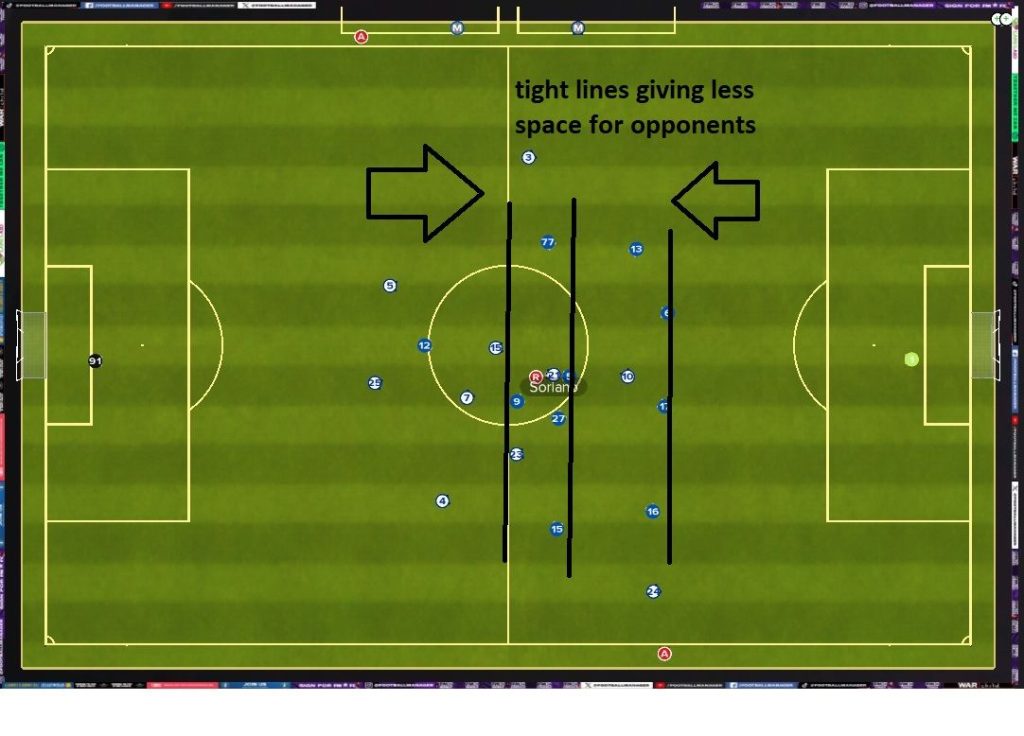 The team doesn't retreat too far back. The Lower Defensive Line is there to prevent being caught out by long balls, but the High Press means that the opposition is never allowed to settle.
The team is aggressive, looking to win the ball back as soon as possible and prevent easy build-up play from the opposition.
Overall Picture of the 4-4-2 System: Synchronicity and Fluidity in Play
The team operates like a well-oiled machine, with each cog turning in sync with the others.
The defense is a fortress, the midfield a conduit of energy and creativity, and the attack a blend of pace, precision, and unpredictability.
The 4-4-2 formation is balanced but adaptable, capable of withstanding pressure and then breaking with venom. It's a tactic that respects the principles of traditional football while incorporating modern elements of play.
Player Roles and Duties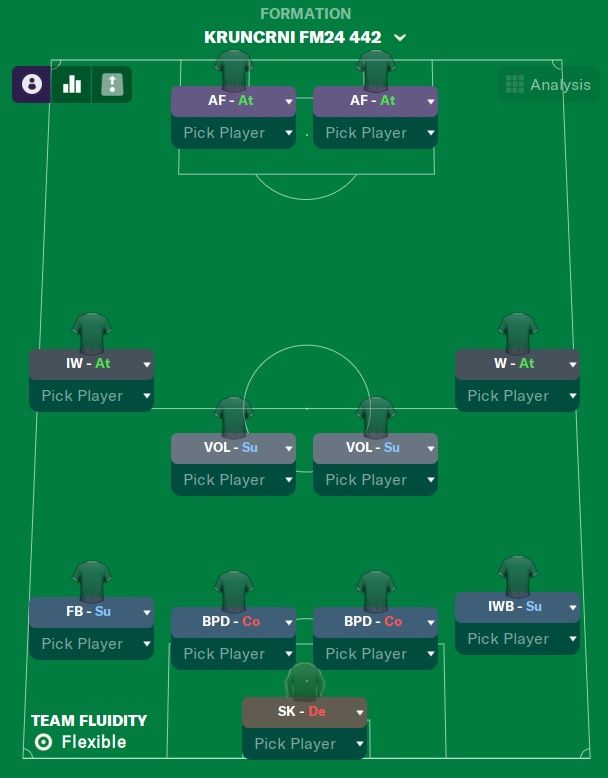 Sweeper Keeper (Defend): This role involves the goalkeeper acting as an additional outfield player, sweeping up balls behind the defense and starting attacks from the back.

Full Back (Left, Support): This player will balance defensive duties with support in attack, providing width and crossing opportunities from the left flank.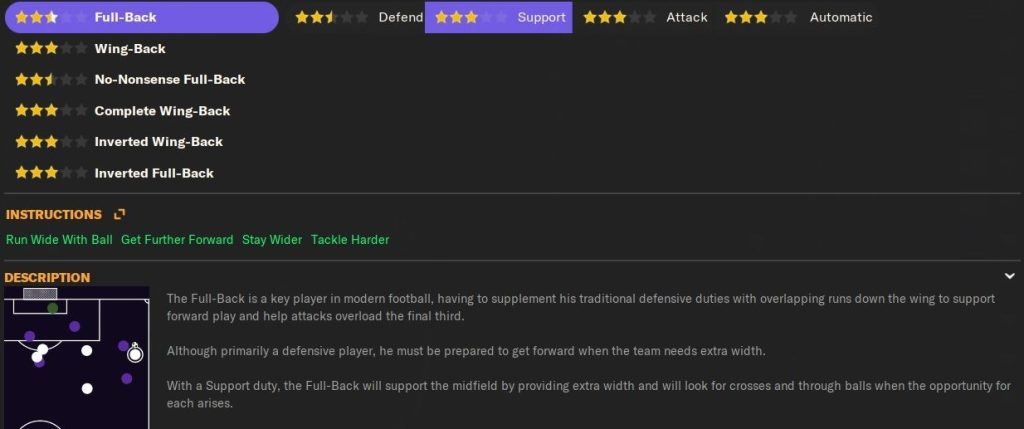 Inverted Wing Back (Right, Support): The right full-back will cut inside into central areas, allowing the right winger to stay wide and providing an additional option in central midfield.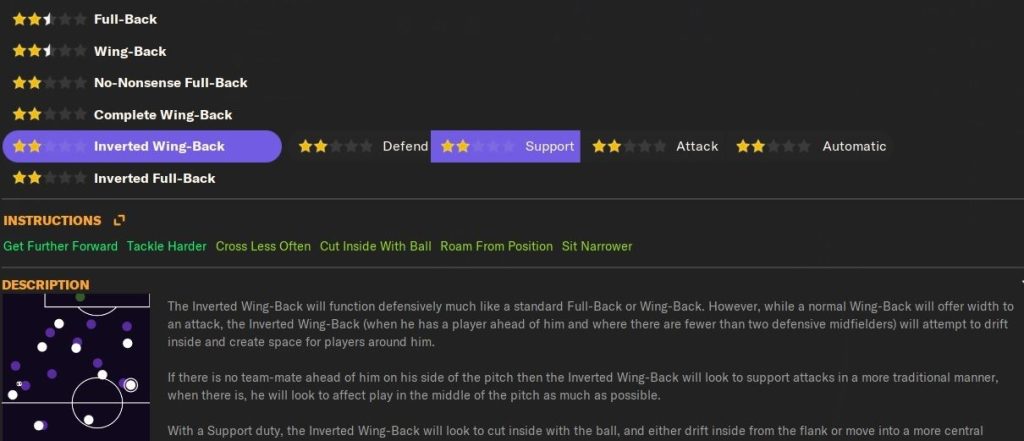 Ball Playing Defenders (Cover): Both central defenders will look to initiate attacks from the back with their passing ability. The 'Cover' duty ensures they drop deeper to sweep up through balls and cover spaces behind the advancing full-backs.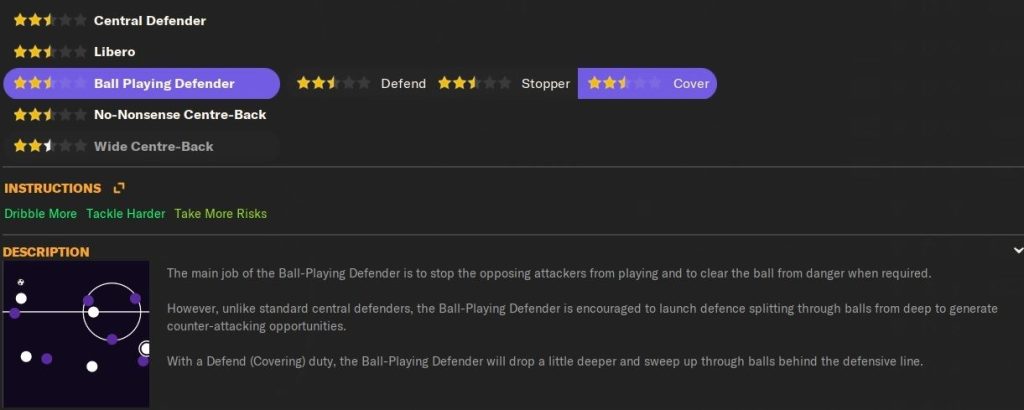 Segundo Volante (Support): This is a dynamic role for a central midfielder who will look to drive forward with the ball into attacking areas, while also fulfilling defensive responsibilities.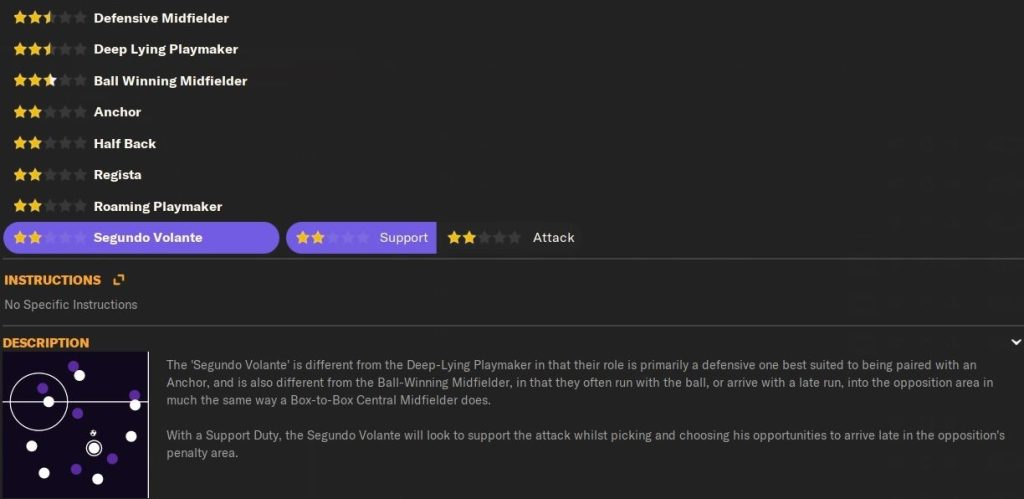 Inverted Winger (Left, Attack): This player will cut inside from the left flank, looking to shoot or combine with the forwards and central midfielders.

Winger (Right, Attack): The right winger will stay wide, stretch the opposition defense, and deliver crosses into the box for the forwards.

Advanced Forwards: Both strikers will look to push against the opposition's defensive line, make runs behind, and be the primary goal threats.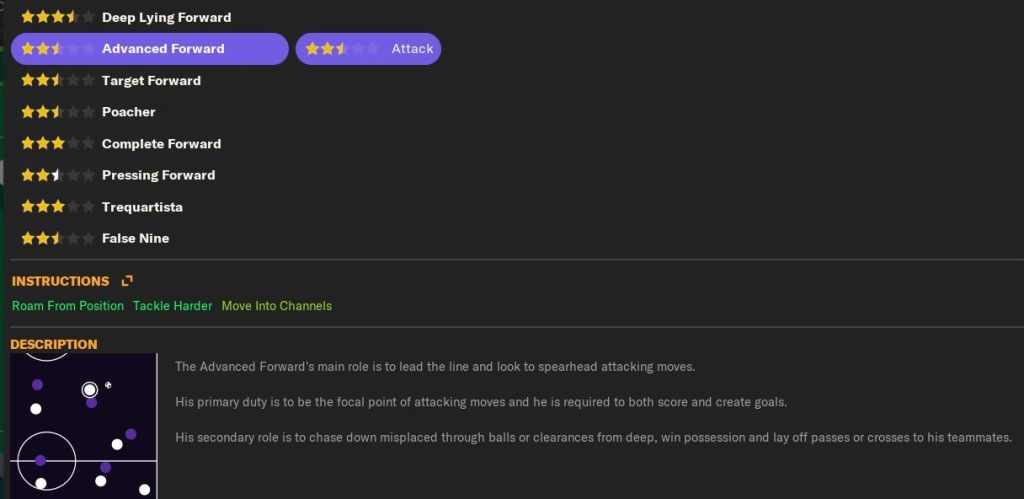 Team Instructions
Mentality: 'Balanced' to ensure a stable approach, neither too cautious nor too aggressive.
---
In Possession:
Shorter Passing: To maintain possession and control the tempo of the game.
Pass Into Space: To exploit the space behind the opposition's defense.
Low Crosses: To provide cut-back opportunities for oncoming midfielders and strikers.
Run At Defence: Encourages players to dribble and create opportunities.
Be More Disciplined: Ensures players stick to their tactical roles.
Focus Play Down the Right & Left: To utilize the width provided by your wingers and full-backs.
Overlap Left & Right: To encourage full-backs to support the wingers and provide additional width.
Slightly Higher Tempo: To move the ball more quickly without rushing play.
Fairly Narrow Attacking Width: To keep play concentrated and support combination play.
No Time Wasting: To maintain a steady flow in the game.
---
In Transition:
 Roll It Out: For the keeper to distribute the ball to defenders.
Distribute Quickly: To initiate counter-attacks.
Counter: To take advantage of disorganized opposition defenses.
Counter-Press: To regain possession quickly after losing it.
---
Out of Possession:
Lower Defensive Line: To minimize space behind the defense and mitigate the risk of balls over the top.
High Press: To put pressure on the opposition high up the pitch.
Trigger Press Much More Often: To aggressively regain possession.
Prevent Short GK Distribution: To force the opposition to play long from the back.
Get Stuck In: To increase the intensity of challenges.
Drop Off More: To encourage the team to regroup defensively when the ball is lost.
---
In-Game Management
Monitor Defensive Shape: With a lower defensive line but a high press, ensure your team doesn't get caught out with balls over the top. Adjust the defensive line if necessary.
Balance in Attack: With focus play instructions on both flanks, ensure that your team doesn't become too predictable and can switch play effectively.
Pressing Intensity: With a much more frequent pressing trigger, watch your team's stamina and adjust if they are becoming fatigued.
Discipline: 'Be More Disciplined' will help maintain your tactical shape, but ensure it doesn't stifle creativity when opportunities arise.
Training and Preparation
Tactical Familiarity: Focus on tactical training to ensure players understand their roles within the system.
Defensive Drills: Work on maintaining a solid defensive shape and practice transitioning from attack to defense.
Attacking Movements: Drill your players in creating and exploiting space, particularly with low crosses and runs at the defense.
Match Analysis
Review Player Performances: Look at how well players are fulfilling their roles, especially the balance between attack and defense on the flanks.
Analyze Pressing Efficiency: Ensure that the high press is effective and not leaving gaps in midfield or defense.
Assess Tempo and Possession: Make sure the tempo is allowing for controlled possession without losing the ball unnecessarily.
Shouts and Adjustments
If the game isn't going as planned, the manager should use Shouts like 'Encourage' or 'Demand More' to motivate the team.
In the event of a Red Card, the tactic suggests removing one attacker (unless the sent-off player is an attacker), to maintain defensive stability while still posing a threat upfront.
Results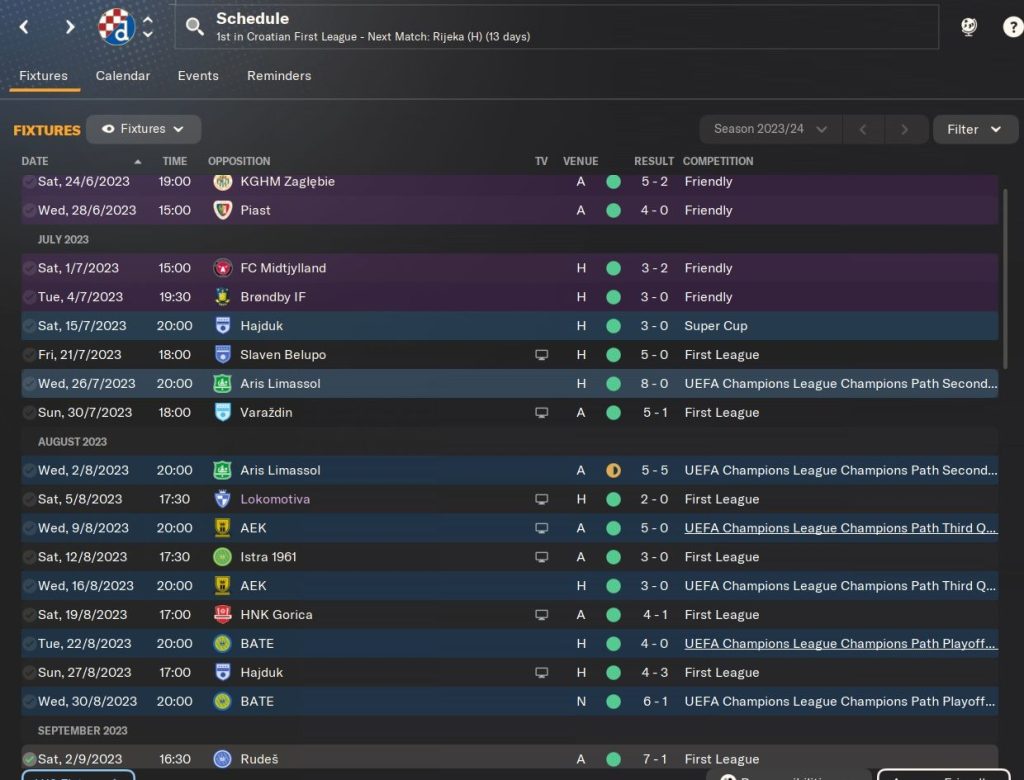 Team Attacking Stats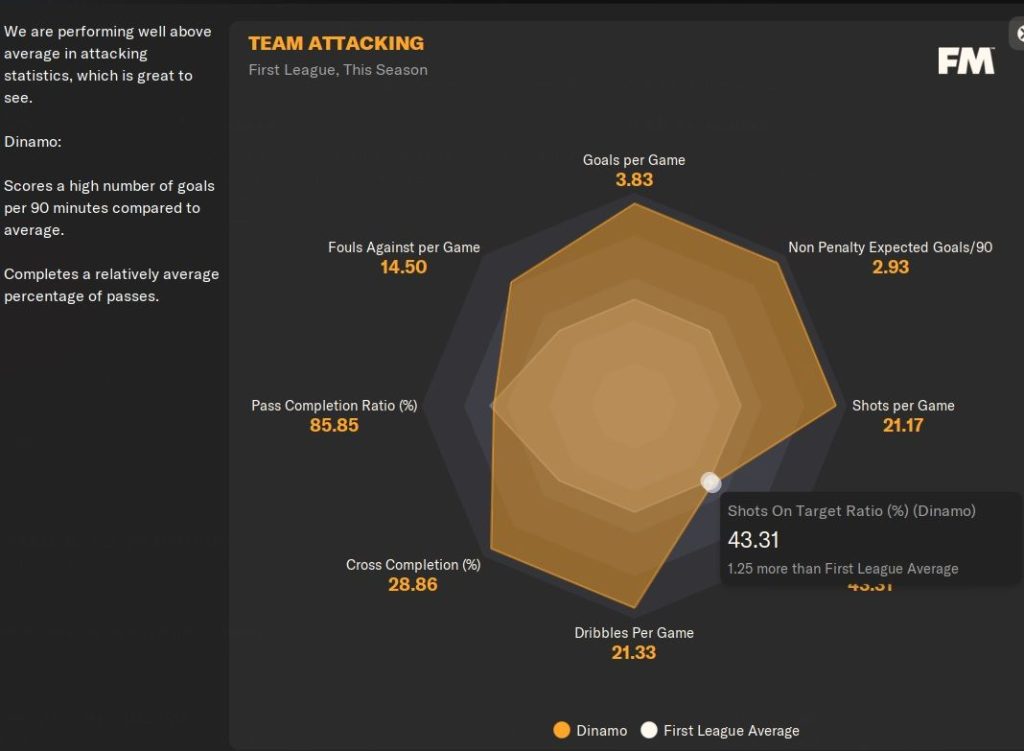 ---
Download the Tactic
Q&A
---
Do I need specific types of players for this tactic to be effective, especially for roles like the Segundo Volante and Inverted Wing Back?
Yes, player attributes should match their roles. For instance, a Segundo Volante should have good passing, tackling, and work rate, while an Inverted Wing Back needs dribbling, passing, and defensive skills.
With a high press and a lower defensive line, how do I ensure that my team doesn't get caught out with over-the-top balls or quick counter-attacks?
To prevent being caught out, ensure your central midfielders and defenders have good positioning and anticipation attributes. Also, consider tweaking the defensive line based on the pace of your defenders and the opposition's attackers.
How can I maintain attacking fluidity and creativity while also being disciplined with the 'Be More Disciplined' instruction?
Encourage creativity with individual player instructions or by setting specific players to a 'More Expressive' creative freedom. Also, ensure that your attacking players have high flair and vision attributes.
If I'm focusing play down both flanks, how do I prevent my team from becoming too stretched or losing its shape?
Use player instructions to maintain shape, such as telling wingers to 'Sit Narrower' or instructing central players to 'Move Into Channels' to cover wide areas when needed.
What do I do if my team is struggling with stamina due to the 'Trigger Press Much More Often' instruction?
Rotate your squad to manage stamina and consider reducing the pressing intensity if fitness levels drop significantly during a match.
How should I adjust this tactic if I'm facing a team that uses a narrow formation and congests the midfield?
Against a congested midfield, you might want to use your full-backs and wingers more effectively, or drop a striker back into midfield to gain numerical superiority.
Are there specific set piece routines that work best with this 4-4-2 setup?
Design routines that take advantage of your players' strengths, such as targeting your best headers of the ball or playing short routines to maintain possession.
What training should I focus on to develop young players for this system?
Focus on training that enhances the key attributes for each role, such as passing and tackling for midfielders, and crossing for full-backs and wingers.
Can this tactic be easily adapted during a game if things aren't going well, and what changes would you recommend?
If the game isn't going well, consider dropping your wingers back to midfield to create a 4-4-1-1 or changing one of your striker's roles to support to link play better.
What's the best substitution strategy with this tactic, especially if I need to chase a game or hold onto a lead?
If chasing a game, bring on fresh attackers or an attacking midfielder. To hold onto a lead, reinforce the midfield or bring on a defensive player to switch to a 4-5-1.
Does this tactic work in all weather conditions, or should I have an alternative for heavy rain or poor pitch conditions?
In poor conditions, consider adjusting to a more direct style of play and ensure your players have suitable attributes for physicality and determination.
Should I be using specific opposition instructions to complement this tactic?
Use these to target key opposition players, such as showing tricky wingers onto their weaker foot or tightly marking a playmaker.
What are the best team talks to use with this tactic before the game, at half-time, and after the game?
Tailor your talks to the context of the match and the morale of your team. Encourage them if they're underdogs, and demand focus if they're favorites.
You mentioned not using shouts when winning, but are there any situations where a shout could be beneficial even when ahead?
Even when ahead, 'Praise' can be beneficial to maintain good performance levels, while 'Tighten Up' can help see out a game.
If a midfielder gets a red card instead of a striker, what would be the best way to adjust the formation?
If a midfielder is sent off, consider dropping your advanced forward back into midfield to maintain numbers in the center of the park.
Should I be using this tactic with my youth teams to ensure consistency throughout the club?
Implementing the same tactic in youth teams can be beneficial for player development and tactical familiarity as they progress to the first team.
Is this tactic effective in all leagues, or is it better suited to certain styles of play found in specific countries?
This tactic can be effective across different leagues, but be prepared to make minor adjustments to suit the level of competition and playing style.
How do I manage player morale if they are not suited to the roles in this tactic, or if they get fatigued from the high pressing?
Manage morale through individual talks, ensuring players understand their role in the team. Rotate the squad to manage fatigue and keep players happy with their playing time.
Does this tactic require significant investment in the transfer market, or can it be effective with a limited budget?
The tactic can be adapted to suit your budget. Focus on developing players from your youth team or finding suitable players within your financial constraints.
Is this tactic sustainable over multiple seasons, or will I need to evolve it to maintain success?
To maintain long-term success, evolve the tactic based on the players at your disposal and the changing dynamics of the game. Keep an eye on emerging trends and adapt accordingly.
Give us feedback: Was his article helpful?