I always like to have fast defenders in my squad!
Why?
So my team can defend higher up on the pitch and put some extra pressure on opponents by marking them tightly and lowering the playing space.
More often then not, one of the cons for having fast defenders is jumping reach.
It means that my team will be more vulnerable to crosses. This can be especially dangerous from free kicks, corners, and even long throw-ins.
And this is where a goalkeeper with great aerial ability can make a huge difference!
Aerial Ability in FM
The higher an aerial ability is, the higher goalkeeper can reach when jumping for the ball.
Because of that he can intercept and catch the ball, or punch and clear a lot of those dangerous crosses.
If you are a weaker team or play on the counter you definitely need a good aerial ability keeper!
---
And these are the major reasons why I always check "Aerial reach" attribute when I choose my keeper.

---
As this attribute is complement by "Command of area" you need to make sure your keeper has good both of these attributes.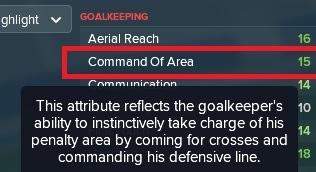 ---
The "Tendency to punch" attribute is also closely related but in the way whenever the keeper will decide to punch or try catching the ball.

---
Definitely, the more important attribute would be "Rushing out".
Why?
You don't want for great "Aerial reach" keeper to stay on the line!

---
To conclude, the good aerial ability goalkeeper needs to have good attributes for;
Aerial reach
Rushing out
Command of area
And solid attribute for Tendency to punch.
If you want to be safer from set pieces crossing you need to find the right keeper.
To make thing easier for you below is the biggest list of great goalkeepers with high "Aerial reach" attribute, with a good "Command of area" and "Rushing out attribute".
Good luck!
Give us feedback: Was his article helpful?